Online exercise classes and on-demand workouts specifically designed to help you feel better, increase your confidence, and live the life you want.
*you may cancel at anytime
"We've been helping People with Parkinson's feel better, have more energy and keep their independence for the past 20 years!"
Step 1
Find Your Why
Ask yourself: Why is investing in my health important? Is it to:
Spend time with your family?
Play with your grandkids?
Be a role model as you age?
Continue being independent?
Prevent falling and injury?
Protect against health issues?
Lose some weight?
Step 2
Get Started
There will never be a better time to care for yourself!
What are you afraid of?
Every day that goes by makes it harder to begin. Start today!
Being weak, frail, and unable to care for yourself will cost much more, so why wait?!
Don't wait! Try 14 days free!
Step 3
Join a Class
We make classes fun and effective for all skill levels!
Make new friends in this supportive community
Join live classes via daily email links or through the website.
100s of on-demand sessions available to fit any schedule
Start with 2-3 sessions/week!
Do you have questions?
We are here for you. Call or text us and a member of our team will reach out to help!
614-665-1239
That's just $1.67 per day!
Or, save over $100 with an annual membership.
Benefits of
Total Parkinson's
Strength
The Total Parkinson's program helps to build strength and endurance for daily activity.
Balance
The Total Parkinson's program helps improve balance and gait, reducing your risk of falls.
Coordination
The Total Parkinson's program helps improve both physical and cognitive function.
Motivation
Inspiration and motivation to keep you accountable.
Convenience
Participate in classes or on-demand workouts any time.
Consistency
Maintain consistency with your exercise schedule.
Led by Experts
Exercises led by professionals with 20+ years of experience.
Community
Meet new friends from all over the world.
Evidence-Based
Engage in an evidence-based program that challenges you.
That's just $1.67 per day!
Or, save over $100 with an annual membership.
Check Out These Sample Classes
Suited for ALL Levels of Function
Live & On-Demand Classes and Workouts
Easy Movin'It Class Schedule
Seated and Standing Movements
Tuesday's at 12:00 PM ET
Thursday's at 12:00 PM ET
Saturday's at 12:00 PM ET
Bootcamp Class Schedule
Standing and Floor Movements
Tuesday's at 2:00 PM ET
Thursday's at 2:00 PM ET
Saturday's at 10:00 AM ET
PLUS: 100s of on-demand classes and workouts
AND: Brain & Body classes
Classes are recorded for members to watch on-demand through the Total HealthWorks website
David Zid
BA, ACE, APG
Specialized in developing exercise programs for improving physical and cognitive health

Co-founder of OhioHealth Delay the Disease

Over 25 years of experience
Jackie Russell
RN, BSN, CNOR
Co-founder of OhioHealth Delay the Disease

Parkinson's, Alzheimer's, and Aging Specialist

Over 20 years of experience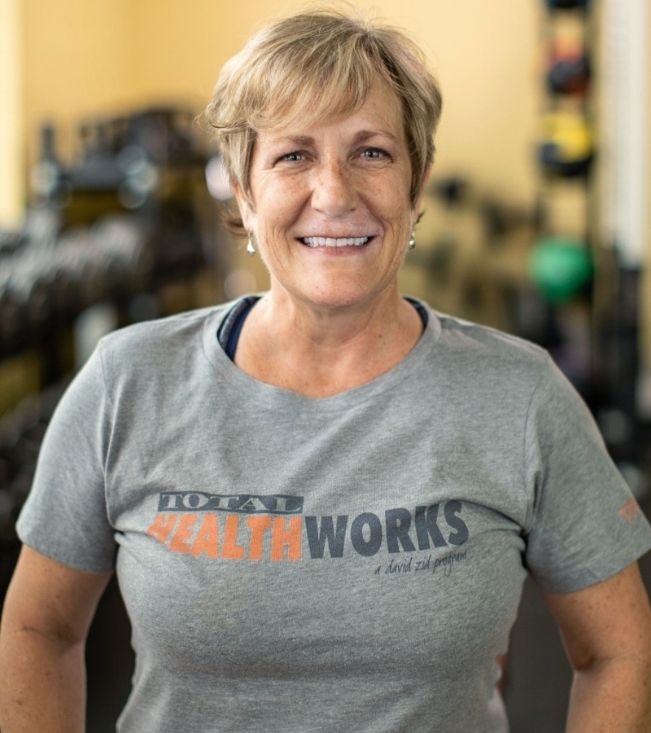 Christa Ream
ACE, L-MT, NASM-CNC
Total HealthWorks Total Parkinson's

Certified
Specialized in training Adults to improve balance, flexibility, strength and quality of life
Over 14 years of expereince
Dr. Bennett Gatto
PT, DPT
Physical Therapist specialized in treating orthopedics, and training Aging adults and People with Parkinson's Disease
Over 11 years of experience
That's just $1.67 per day!
Or, save over $100 with an annual membership.
This class works on balance, posture, walking, rotation, multitasking, and freezing. Brainwork exercises focus on symptoms specific to Parkinson's disease, but anyone will find these beneficial, especially as we age. Core and body strengthening are always included. If you struggle with falls, need a little help getting out of a chair or off the floor, or use a cane/walker, this class is for you. We will show modifications to make it more challenging or less intense.
Join this class for a rigorous workout that also focuses on symptom-specific exercises for Parkinson's, which are also great for everyone as we age. We will get up and down from the floor and perform strength/core exercises designed to challenge you. This workout targets participants that rarely struggle with balance and can sustain 80 – 85% heart rate elevation for short periods.
Our brainwork focus in this class is on memory and cognition using multitasking, sequencing and other brain and body challenges. We will still work balance, posture, strength, coordination and joint mobility. Join this class if you need a little help with balance, are able to get out of a chair without assistance, need a bit of help getting down to the floor and can understand verbal instructions. We will show modifications to make it less challenging, or more intense.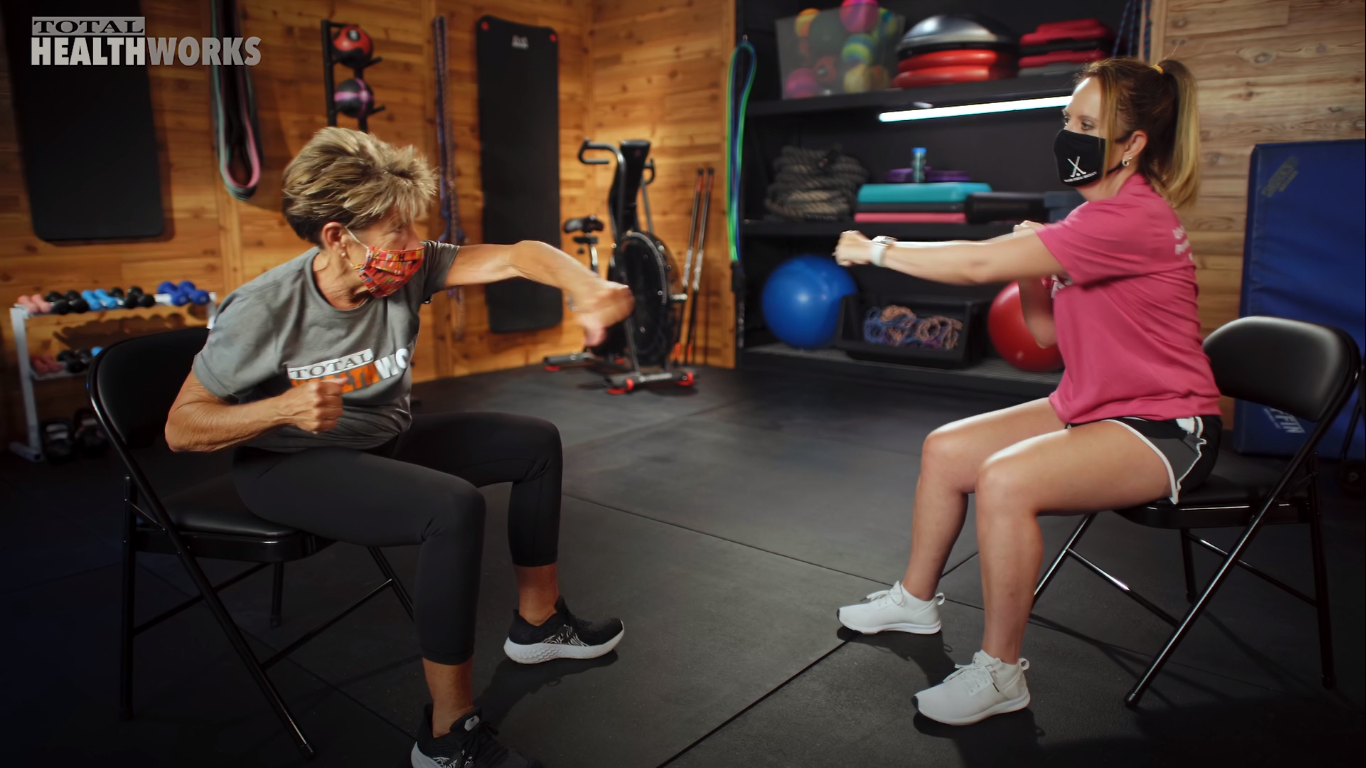 This mid-high intensity class incorporates complete body movements while challenging the mind, focusing on the core. Throughout the class, the instructor will guide you through a comprehensive warm-up and then introduce a set of basic movements like lunges and squats. The movements included in the set will build as the class progresses, adding and subtracting attributes to challenge balance, body control, strength, and flexibility. Basic equipment such as hand weights, a chair, cushion or towel, and wall space are regularly used.